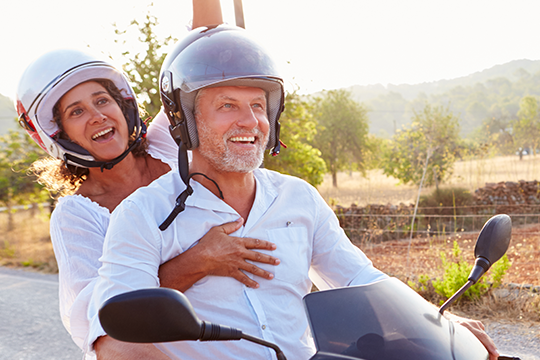 Thinking of tossing away your snow shovel for a sun hat? If so, you are not alone. Every year, thousands of Canadians make their way south during the colder months. But before you pack your bags, take a minute to read through these simple travel tips to help ensure you stay safe and protected.
Check in for a checkup
It's a good idea to visit your doctor for a complete checkup prior to heading south, especially if you have a pre-existing medical condition. You should also plan to visit your dentist for a cleaning and your optometrist to make sure your prescription is up-to-date. By planning ahead, you should be able to prevent any surprises when you hit the beach.
Make room for medication
If you're travelling with medication, you should be as cautious with it as you are with your credit cards, money and passports. If you are flying, it may seem easy to pack your medication in your checked luggage, but medication should always be packed in your carry-on baggage. Whether you're flying or driving:
Keep all medications in their original labeled containers
Don't pack different medications in the same container to save space
Bring a piece of paper with the names of all medications, the dosages and a letter of explanation from your doctor in case you need to replace or refill a prescription
It's also a good idea to bring at least a few extra days' worth of all necessary medications so that if you are delayed on your way home, you'll have everything you need.
Invest in MEDOC® Travel Insurance
Your provincial health care provides only limited coverage for emergency medical costs outside of Canada so it's important to add travel insurance in the event of a medical emergency.
Association members benefit from a specially designed travel insurance plan through Johnson Insurance* that offers comprehensive coverage at a great rate. As part of MEDOC®, you will receive:
Coordination with your Public Service Health Care Plan (PSHCP) and your provincial or territorial government health insurance plan
Up to $5,000,000 in Emergency Medical Insurance coverage for an unlimited1 number of trips during the policy year
Up to $12,000 coverage for Trip Cancellation2, Interruption & Delay benefits
Access to coverage regardless of age or health status3
Supplemental Plan options for extended travel
Save five per cent on your home insurance4
If you haven't already, call 1-855-304-4700 or click here to become a Federal Retirees member. Once you are a member, you will be able to take advantage of this special MEDOC® Travel Insurance offer. If you are already a member, call toll-free at 1-855-772-6675 for more information about MEDOC® Travel Insurance.
By taking these proactive steps, you'll be prepared to enjoy all the warm weather activities that the south has to offer, worry-free.
Johnson Insurance is a tradename of Johnson Inc. ("Johnson") and operates as Johnson Insurance Services in British Columbia. Johnson is a licensed insurance intermediary. *MEDOC® is a Registered Trademark of Johnson. This insurance product is underwritten by Royal & Sun Alliance Insurance Company of Canada ("RSA") and administered by Johnson. The eligibility requirements, terms, conditions, limitations and exclusions, 1(including but not limited to trip duration and intra-provincial trips), which apply to the described coverage are as set out in the policy. Policy wordings prevail.
2For a trip to be covered for Trip Cancellation, MEDOC® coverage must be in effect on the day of booking your trip or purchased, a) within 5 business days of booking your trip, or b) prior to any cancellation penalties being charged for that trip.
3A 90-day Health Stability Clause applies to pre-existing medical conditions for the Standard Health Option, Supplemental Plan only, and other restrictions may apply.
4Home policies underwritten, and claims handled, by RSA in Quebec and primarily underwritten, and claims handled, by Unifund Assurance Company ("Unifund") in the rest of Canada. Discounts on home insurance applicable to principal residence only and only on policies underwritten by RSA or Unifund. Eligibility requirements, limitations and exclusions apply.
Johnson, RSA and Unifund share common ownership. Call 1-800-563-0677 for details.