Laura Byrne Paquet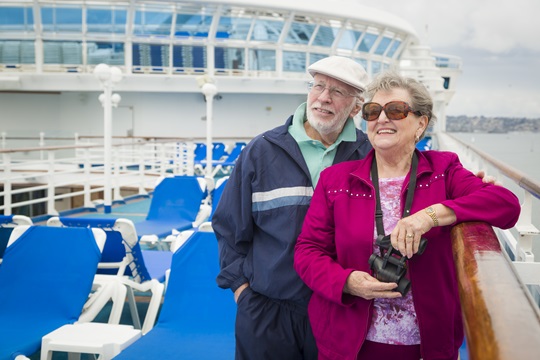 Andy Dean Photography / shutterstock.com
On a European cruise, you may find yourself browsing in glamorous boutiques, relaxing over croissants at a sidewalk café, walking through sprawling museums, exploring a rocky beach or a hilly village, or even hiking, cycling or kayaking. Packing for all that may seem challenging, but you can keep your luggage light with these travel-savvy tips.
 
Check the weather forecast
All European cruises are not created equal. For a Baltic cruise, you'll need layers, particularly in spring and fall. If you're heading to the Mediterranean in summer, bring lightweight shirts and sandals. No matter where you're going, don't forget a sweater, shawl or light jacket; nights at sea can be breezy and air conditioning aboard ship is often set high.
 
Don't forget the essentials
Put your passport, money, medications and other vital items in your carry-on bag. Small phrasebooks aren't a bad idea, either.
 
Be stylish
It's a cliché, but it's also true: Europeans, particularly those over 30, dress a bit more formally than many Canadians do. You're not James Bond, so you don't have to bring a bespoke tuxedo. But if you want to blend in, leave the luggage-hogging jeans at home in favour of cotton trousers and skirts—or linen, if you can bear the ironing.
Most Europeans wouldn't be caught dead in runners unless they're actually jogging or at the gym, so pack stylish walking shoes. (Of course, if you're going to be hiking or cycling, bring the appropriate footwear.)
Baseball caps, fanny packs, skimpy tank tops and short shorts will also mark you as an outsider in many European cities. Instead, pack scarves, shawls and a sleek tote bag. Bear in mind that some religious sites may require you to cover your head or shoulders, and won't let you in if you're wearing shorts.
Check with your cruise line about the onboard dress code, as well. Depending on the ship, you may need cocktail wear for a few formal dinners.
 
Make the most of your cabin
Despite your best efforts to travel light, you may still find that onboard storage space is at a premium. A lightweight over-the-door shoe organizer can be handy for all those sandals and loafers; it's also a great way to keep things like sunscreen, lip balm, sunglasses, umbrellas and bathing suits in easy reach.
A sleeping mask, seasickness remedies and earplugs can make your time at sea a bit more restful, while a small alarm clock can help ensure you don't miss that early-morning shore excursion.
 
High-tech help
Ask your cruise line about electricity on board; you may need converters or adapters for your gadgets. A small power bar can be useful, but check with an electronics store to make sure your gizmos, combined with any power converters, won't overload it.