Debra Smith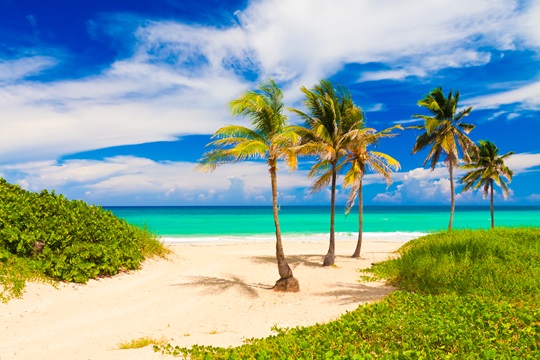 Kamira / shutterstock.com
"Don't worry, I won't steal your husband," said the tiny lady with the leathery tan, waving her cigar in the air. "I just want to give him a kiss." There was a small ransom of one Cuban convertible peso to get him back. He was worth it and so was the picture we took. Getting into Cuba is a breeze for Canadians. Your tourist visa is included in your airline ticket price. Hang on to it during your stay, as you will have to present it when you leave, along with a departure tax of 25 CUC. Called a "kook," the CUC is the currency used by tourists. Look for the words "pesos convertibles" on the bills. Cubans use the Cuban peso (CUP). While Canadian credit and debit cards are accepted at hotels and most restaurants, it's wise to carry enough CUCs in small denominations to pay for meals and incidentals during the day. Cuba has an undeserved reputation for somewhat bland food. Upscale all-inclusive resorts usually showcase several international-calibre restaurants. In town, look for paladares, home-based restaurants, for a chance to sample hearty national stews like ropa vieja (slow simmered beef or lamb in tomato sauce) and ajiaco(with a corn and vegetable base). Freshly caught lobster, shrimp and fish, prepared without fanfare, is reliably delicious. As befits a sugar producing country, desserts are outstanding and pair nicely with the superb Cuban coffee.
 
The Western Provinces
Don't miss vibrant Havana where you can rent a 50's convertible and drive along the Malecon, the famous seawall, to the National Hotel, a former hangout of gangsters and celebrities. Walk the cobblestone streets of Old Havana with a knowledgeable guide from the San Cristobal Agency, an institution that is working to restore this ancient part of the city.  A two-hour drive away, the Viñales Valley, in Pinar del Rio province, shelters a magical landscape where limestone mounds tower hundreds of feet above the flat, green fields of tobacco and coffee plantations. Travel on to Cienfuegos city, with its well preserved French architecture and botanical gardens; and Trinidad, an untouched 500-year-old pastel-hued colonial town perched on a pristine beach that's perfect for diving and snorkelling.
 
Heading East
Walk into the cloud forests of the Sierra Maestra, Cuba's largest mountain range. Find a guide in the town of Bayamo before heading out to the trails where palm trees give way to pine and fir. Urbanites will enjoy Santiago de Cuba, Cuba's second largest city, where the salsa, son and rumba music never stops. Celebrations reach a peak during the colourful and lively Santiago carnival, held in the week leading up to Saint James' Day on July 25. Parades, intricate floats, costumed dancers and neighborhood conga lines spill into the streets. Although diplomatic relations have been restored, Cubans still have to be creative when dealing with shortages of all kinds due to the U.S. embargo imposed in 1962. To avoid shortages of your own, bring some extras of your favourite over-the-counter medications, sunscreen and toiletries. For more information, visit The Cuban Tourist Board website www.gocuba.ca