Dave Finn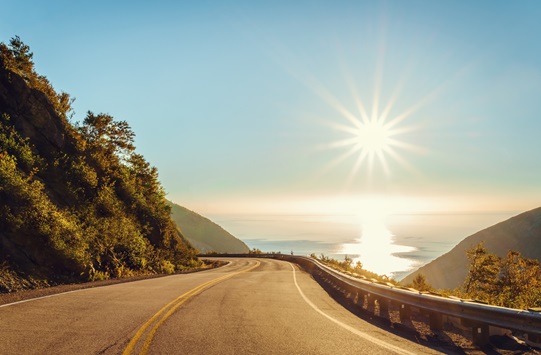 Vadim.Petrov / shutterstock.com
The freedom to stay or the freedom to go, the freedom to explore or the freedom to move on — I'm talking motorhomes, not motorcycles. I fell in love with RVing almost 30 years ago when our walkabout in Australia turned into a "ride about" in New Zealand.
You see, a few months earlier, in what was both a very brave decision and a complete leap of faith, my wife and I sold our house and set out with our two young daughters to explore the Pacific Rim. En route, we stayed in a condo in Hawaii and a resort in Fiji. In Australia, we camped or stayed in caravan parks, hostels and the occasional hotel, but it wasn't until we scored a motorhome in Auckland that I finally felt that I had a home away from home.
The cry "Allons!" — a single word that translates as "Let's go!" — opens many of the stanzas in Walt Whitman's poem Song of the Open Road. His story celebrates the out-of-doors, and the road in particular, as a place where people can come together in a meaningful way — where status matters less and the experience matters more. I believe that is also the mantra of the folks we have met who take off in their RVs to see friends and return to familiar places or, alternatively, satisfy their wanderlust.
We've met people who hop in an RV to attend a weekend family reunion, who rent one every summer as their vacation destination or who travel around in one several weeks a year. It's not unusual to talk to some who spend their summers crisscrossing this great country of ours but cheerfully head south in December to escape another winter. I once met a couple who had spent two years travelling throughout Canada, the United States and Mexico. They hadn't even been back a month and were already busily planning another extended getaway.
 
Why try RVing?
What's the allure? Ask someone why they enjoy RVing and you're bound to get comments like "It's relaxing," "It's convenient," "It's affordable," "I'm able to cook my own meals," "I can sleep in my own bed," "I don't have to pack or unpack" or "I can just hop in and go," but the overriding theme is "It's a great way to meet people and make new, often lifelong, friends."
Sometimes when you attend a cocktail reception or another event, you make small talk but it's hard to strike up a real conversation. Not so when you're part of the RV community. People genuinely want to know who you are, where you've been and where you're heading. They want to share their experiences, tips and "tribal knowledge" to help you make the most of your stay or decide where you might want to venture next. We have received some of best travel advice ever while folding clothes in a communal coin laundry or swapping stories around a campfire.
There's no denying the romance of the open road, but is RVing really practical and affordable?
According to Go RVing Canada, a coalition of RV manufacturers, dealers and campground owners, studies have shown that an RV trip is more economical than a traditional week's vacation for a family of four, when you consider the costs of flights, car rental, hotels and eating out at restaurants.
 
Cape Breton by RV
I have a long history of camping and have ventured out in many types of RVs, sometimes with my wife, sometimes with friends and on occasion with a group. Two years ago, I travelled to Cape Breton with my son-in-law and toured the entire island in a Midi motorhome. We were there to play some outstanding golf, but having a RV certainly changed up the vacation in a positive way.
We started out from Ben Eoin RV Resort & Campground on the sandy shores of Bras d'Or Lake, just north of Sydney. Driving along the eastern portion of the Cabot Trail to Ingonish, we were both taken aback by the beauty of the Atlantic coast and surprised at how easily our almost two-tonne home-away-from-home handled the curves and steep inclines. For the next four days, we lived like nomads. We stopped near the golf courses we wanted to play, cooked our own meals and moved at our own pace.
It's the perfect way to get to know someone better. The memories we made along the way were priceless. Common interests form common bonds. Travelling together, golfing together, sharing tales of earlier adventures and listening to stories about my new grandson strengthened our friendship and enriched the trip.
 
Destination Inspiration
So what's next? In addition to touring Cape Breton, I've also circled PEI, travelled the Glacier Highway between Banff and Jasper and stayed at Moraine Lake in the Canadian Rockies, and navigated the mountain passes between Calgary and Vancouver. I can't think of a better way to explore Canada than in an RV.
Last summer, I spent a few days in Forillon National Park on the Gaspé Peninsula, hiking the trails, kayaking with seals, photographing moose at sunrise, whale watching and soaking up the local culture. Even so, it wasn't enough time, and Forillon is definitely on my list for a return visit.
My wife is equally determined to venture north. And by north, I mean really north! She wants to go back to Yellowknife to spend some time unplugged and immersed in a smaller community. A couple of years ago, she spent two weeks working there, but it wasn't until her last evening that the majesty of the Northern Lights was revealed. Now, she wants to reconnect with new friends and sit on the steps of her "home" while the lights dance around her. Sounds appealing to me!
Closer to home, Algonquin Park beckons. I used to canoe the lakes and tent overnight on various islands in the park, but now that I'm getting a wee bit older, I have to admit I enjoy my creature comforts a bit more. "Camping out" in an RV feels like a great way to revisit my youth in a less rustic way. And I can't imagine a more beautiful place to take our grandsons to hear the cry of a loon and discover just how much entertainment you can find in nature.
 
The bottom line
So how much does RVing cost? To give you an idea, in June our Midi motorhome rents in Nova Scotia for around $238 per day ($1666 per week), which includes insurance and 100 kilometres per day. Pre-paid plans for extra kilometres cost about $0.33 per kilometre. You can also purchase a convenience package that includes dishes, cookware, towels and bedding for $80 per person if you don't bring your own. Fuel costs vary considerably, depending on the size and type of RV; we averaged around 24 litres per 100 kilometres.
Across Canada, many national parks and private campgrounds have RV-accessible campsites. In most places, fees per night range from $25 to $45 CAD, including water, electricity and waste service.
 
Stay for free
Looking for an even less expensive option? Many communities allow and even encourage "boondocking."
What exactly is boondocking? It's staying the night without hook-ups. If you're just passing through and your unit is self-contained with cooking, sleeping, shower and toilet facilities, there are plenty of places to stay the night—often for free.
Walmart has welcomed RVers for many years, graciously allowing overnight parking in their lots. Now many other retailers and municipalities are following suit, in the hope that you will patronize their establishments and communities when you need supplies. More than a fair exchange, in my opinion!
Casinos are also known for extending their hospitality to the RV community. Of course, they want you to come in and play, but even if you don't, they consider it a win-win if you enjoy the entertainment or a cup of coffee, and tell your friends to visit.
Boondocking is not a right; it's a privilege. Many places will roll out the red carpet to RVers who spend a night, move on in the morning, ask permission and obey local ordinances. Not every Walmart or every town allows motorhomes to overnight, so do your research in advance. The new Allstays app for Apple and Android (deluxe version US$11.99) contains information on more than 29,000 campgrounds, parks and overnight facilities across Canada and the United States. It's a small investment to help you make the most of any trip.
 
THE LAST WORD
As a child of the '60s, I can't help but hear — whenever I think of hitting the road — "Born to be Wild" by Canada's own Steppenwolf.
Do you remember the lyrics?
Get your motor runnin'
Head out on the highway
Lookin' for adventure
And whatever comes our way
Born to be wild…
So one last question: When are you picking up your RV and heading out to find your own road?
 
IF YOU GO
For more information on RV'ing, see Go RVing Canada.
Interesting Statistics
There are over 1 million RVs on the road in Canada Go Riving Canada
More than 400 RV dealers across Canada Recreational Vehicle Dealers Association