Laura Byrne Paquet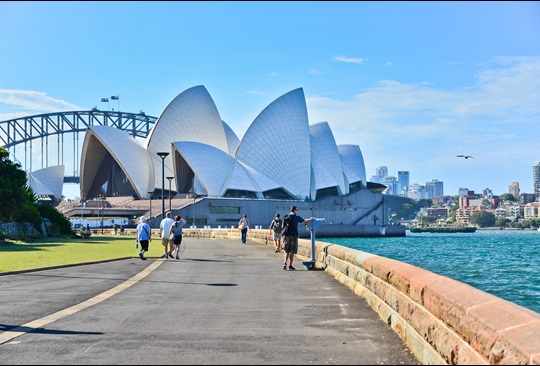 Sydney, Australia Javen/shutterstock.com
I was down on my hands and knees, peering into a rocky breakwater off suburban Melbourne. A nearby sign had piqued my interest, and I was on a mission.
My ad hoc guide was an octogenarian Italian-Australian in a Speedo, who had been lounging on the nearby pier with some friends when he saw me on my quest, and bounded over to point me in the right direction.
Suddenly, I spotted what we were looking for.
"There! I see it!" I cried, pointing at the tiny grey penguin sheltering among the stones. My new friend grinned at my delight.
Once known as fairy penguins, these birds are now more commonly called "little penguins." And if you want to see some but don't feel like crawling around the St. Kilda waterfront, head to Phillip Island, about 90 minutes from the city. Famed for its Penguin Parade, a nightly attraction where visitors can watch little penguins emerging from the ocean at dusk to waddle to their seaside nests, the island is also home to koalas, seals and other wildlife.
The chance to see exotic animals ranging from echidnas and wombats to kookaburras and kangaroos is among the top reasons to visit Australia, but there are many others. Start your planning with this region-by-region guide.
 
New South Wales
Sydney is the point of arrival for many Canadians travelling to Australia, and it's an excellent place to catch your breath and get your bearings. Tour the landmark Sydney Opera House and explore the Royal Botanic Garden. If you're not afraid of heights, try BridgeClimb: a safely tethered stroll atop the famous Sydney Harbour Bridge. If you'd rather see the view at sea level, hop aboard a ferry to the laid-back suburb of Manly; it's a much cheaper and less touristy option than the many harbour tour boats. Want to catch some rays? Slather yourself with sunscreen — UV ratings can be high — and head to Bondi Beach, which is rimmed with a busy strip of chic restaurants, casual pubs and trendy boutiques.
In addition, there's much more to Australia's most populous state than Sydney. Caves, waterfalls and hiking trails are among the attractions of the Blue Mountains World Heritage Area, which gets its name from the azure haze that often envelops it. With spas, fine restaurants, golf courses and some 150 wineries, the Hunter Valley draws luxury-loving travellers. And to truly get away from it all, fly to Lord Howe Island, where you will be one of only 400 visitors permitted at any given time and where a bicycle will likely be your mode of transportation.
 
Australian Capital Territory
Like the United States, Australia has created a separate district for its national capital. Canberra is the main city in this 2,358-square-kilometre enclave; much of the rest of the territory is given over to farmland and parks.
Canberra is a wonderful place to discover Australia's history at sites like the National Museum of Australia, the Australian War Memorial, the National Gallery of Australia and Parliament House. Beyond the city, you can explore the Australian Alps in Namadgi National Park, or kayak and fish along the Murrumbidgee River Corridor.      
 
Victoria
On my first trip to Australia, I decided that Sydney was Toronto with palm trees: lots of businesspeople, money and hustle. Melbourne, on the other hand, I summed up as Montreal without the snow. In Victoria's biggest city, culture and cuisine are the driving engines.
Get a taste of the region at the Queen Victoria Markets, one of the largest farmers' markets in the Southern Hemisphere. Check out some of the city's countless wine bars and fine restaurants. Work off some of those calories with a bicycle tour of Little Italy or a walking tour of the city's charming lanes and arcades, which are studded with independent fashion boutiques and quirky cafés.
Beyond the city, explore the vineyards of the Yarra Valley or the Mornington Peninsula. Do as the locals do and rent a houseboat to putter along the Murray River. And make sure to leave time for one of the world's most spectacular scenic drives, the twisting Great Ocean Road.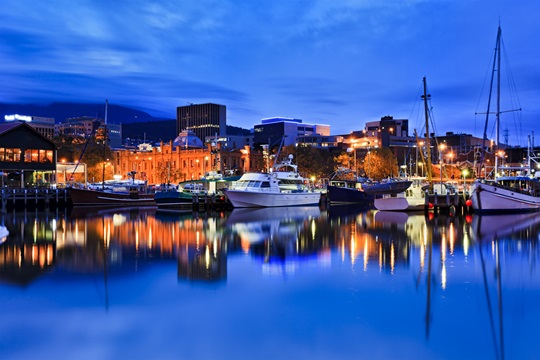 Tasmania, Australia     Taras Vyshnya/shutterstock.com
Tasmania
Australia's island state has many attractions to recommend it, including its capital city of Hobart, a variety of wineries, several luxury resorts, and the ruins of a notorious 19th-century prison at Port Arthur. However, nature is the key draw for many visitors, as the state is home to 17 national parks.
Hikers seeking a challenge can tackle the six-day Overland Track through Cradle Mountain–Lake St. Clair National Park. Take in the view from the 1,545-metre summit of Cradle Mountain, and keep your eyes peeled for possums, wallabies and wombats.
If beaches are more your style, try Freycinet National Park, where Wineglass Bay — a photogenic crescent of white sand and turquoise water — is a popular destination for sailing, kayaking and fishing.
 
South Australia
South Australia has a little bit of everything people come to Australia for. Visit world-renowned wineries in the Barossa, McLaren Vale and Clare Valley. Look for penguins, sea lions, wallabies and — of course — kangaroos on Kangaroo Island. Take a four-wheel-drive vehicle into the expanses of the Simpson Desert or take a sightseeing flight over the Flinders Ranges. Learn about opal mining in Coober Pedy, where hotels, churches and homes have been built underground so residents and visitors can escape the searing heat outside.
Leave time to visit the state capital of Adelaide. You can borrow a free bike supplied by the city and cycle to attractions such as the Adelaide Zoo or Glenelg Beach. Or stroll around suburban Port Adelaide, where Victorian-era buildings have found new life as pubs and shops, and where you'll find museums devoted to trains, aviation and marine history.
 
Western Australia
The first thing you need to know about Western Australia is that it is big. Really big. It's larger than Nunavut or Greenland. It's almost as big as Ontario and Quebec combined.
The second thing to realize is that it is one of the most isolated settled places on the planet. Its biggest city, the boomtown of Perth, is closer to Jakarta than to Sydney. And since three-quarters of the state's two million residents live in or around Perth, the third thing to understand is that much of Western Australia is very, very empty — of humans, that is. Due to the aforementioned isolation, it is filled with plants and animals you won't see anywhere else on earth.
Marvel at the eerily beautiful Bungle Bungle Range — sedimentary rock formations that look like giant reddish beehives. Rent a four-wheel-drive vehicle or an RV to explore the vast Outback, or take a guided coach tour. You can even try your hand at ranching on a working cattle station.
 
Northern Territory
In the rugged Northern Territory, you can visit one of Australia's most famous sites: Uluru (Ayers Rock), sacred to the continent's Aboriginal people for centuries. In fact, the territory is an ideal destination if you want to immerse yourself in the culture of Australia's indigenous population, as you will find many attractions owned or operated by Aboriginal people. Take a tour to sample "bush tucker": traditional native foods such as snake, billy goat plums and water lilies — or even live grubs, if you dare! And in Kakadu National Park, you can see paintings on rocks dating back thousands of years.          
In the territory's biggest city, Darwin, the weather is tropical and fun focuses on the beach, where people congregate to cycle, stroll and dine. Darwin is also the final stop for one of Australia's cross-country trains, The Ghan, which takes three days to travel through the wilderness from Adelaide.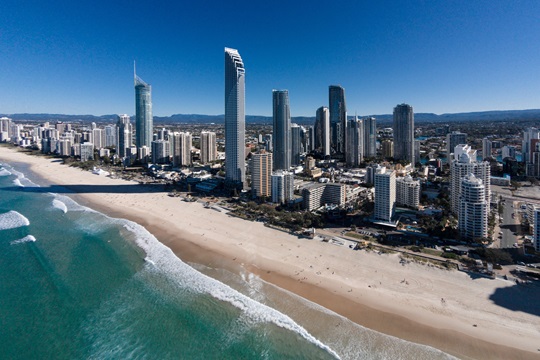 Queensland, Australia DAE Photo/shutterstock.com
Queensland
Queensland is where you will find the world's largest coral reef, the Great Barrier Reef, a World Heritage Area that arcs across 2,600 watery kilometres. Whether you snorkel, scuba, sail or view it from a glass-bottomed boat, it is easy to explore. The Whitsundays, a 74-island chain replete with beaches, national parks and relaxed seaside towns, are a great base of operations.
Back on the mainland, Queensland is home to Australia's third-largest city, Brisbane, where you can get up close with wildlife at the Lone Pine Koala Sanctuary, or explore countless restaurants, shops and museums in South Bank and the Cultural Centre. The state also has two popular beach resort regions, the hectic Gold Coast south of Brisbane (think hotels, nightclubs, shopping and theme parks) and the somewhat more laid-back Sunshine Coast to the north.
 
If You Go
The best time to visit depends where you're headed. Remember that Australia is "upside down," so its winter is our summer and vice versa. Northern regions are tropical, while southern areas are more temperate. Bearing that in mind, April through September is the best time to visit the interior of the country and the Great Barrier Reef, before the weather becomes scorching. From October through March, southern regions such as Sydney, Melbourne and Tasmania are a better bet.
With 7.7 million square kilometres and 23 million people, Australia is hard to sum up in a few pages. For more details, see www.australia.com.