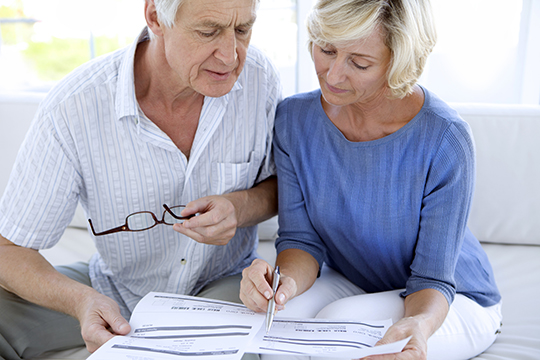 The Supplementary Death Benefit (SDB) is a declining term life insurance based on twice the amount of the employee's salary at the time of retirement. For public service (PS) retirees, beginning at age 66, the benefit declines at the rate of 10% a year until only a $10,000 paid-up benefit is available. The yearly decrease takes effect on April 1 or October 1, whichever date comes first after your birthday. For Canadian Armed Forces (CAF) pensioners, the benefit declines at the rate of 10% a year beginning at age 61, until only a $5,000 paid-up benefit is available.
Note: There is also a term life insurance plan for RCMP members and their spouses that provides benefits after retirement, but this is not part of the RCMP Superannuation Act.
Normally, the Supplementary Death Benefit or SDB will be paid directly to the named beneficiary once evidence of death is received by the pension office and a claim form (if applicable) is completed. If you have not named a beneficiary, it will be paid to your estate.
 
Entitlement to a Supplementary Death Benefit
A Supplementary Death Benefit is not payable in all cases. When leaving the public service, or within 30 days after leaving, you must elect to retain the benefit.
Anyone retiring with a deferred annuity is not eligible to continue the SDB coverage after retirement.
The Supplementary Death Benefit is not part of taxable income if it is paid directly to a beneficiary – however it may be taxable if the funds go to the estate.
 
Designating a Beneficiary
You may name the beneficiary of your Supplementary Death Benefit by completing the appropriate form available from your pension office. Completion of this form for public service or this form for Canadian Armed Forces is especially important for those who have remarried after retirement. Your beneficiary may be:
your estate
any person over age 18 on the date of the naming
any charitable organization or institution
any benevolent organization or institution, or
any religious, educational, or other such organization that is supported by donations
Your beneficiary must be over 18 at the time of naming, or the appointment will be considered invalid and the benefit will be disposed of as though you had not named a beneficiary. Similarly, the completed beneficiary form must be received by the pension office prior to your death to be considered valid.
You can change your beneficiary at any time.
To change your beneficiary, you must submit a new designation form. Even in the event of divorce, a designation remains valid if unchanged. The form must be signed, dated, and witnessed by someone other than the proposed beneficiary.
You may name only one beneficiary at a time. To divide the benefit, you may wish to name your estate as beneficiary and have the benefit distributed in accordance with the terms of your will.
 
For more information
For more information on the Supplementary Death Benefit, click here for Public Service, here for Canadian Armed Forces or call the pension office from which you draw your pension.