Himani Ediriweera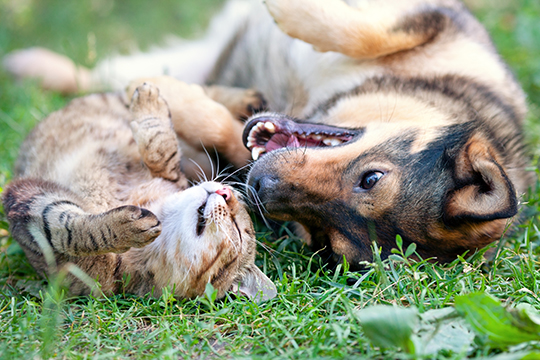 When reclusive billionaire hotel magnate Leona Hemsley died in 2007, her luxury-loving Maltese Terrier Trouble inherited $9 million, making him the richest dog in the world at that time. But that's a pittance compared to Gunther IV, the dog that had $90 million passed down to him from his German Shepherd father, Gunther III, the sole heir of German Countess Karlotta Liebenstein. Even Oprah Winfrey's dogs will be showered with riches to the tune of $30 million upon her passing.
Not everyone can afford to bestow millions upon their pets, however. Usually providing them with an equal standard of living is the most pet owners can do when they are no longer able to care for their pets.
In the U.S., 40 states have statutes that make pet trusts legal, but Canadian law is slow to follow.
In Canada, it's not possible to leave an estate to your pet — pets are considered property. Though they have emotions and personalities, sleep in our beds and share our lives, pets are property, like a valuable heirloom or money, and part of your estate. You might see your pet as part of the family but the legal system does not.
It's easy to think you will outlive your pet, but not everyone will. It's therefore critical to provide for your pets in case you suddenly face a serious illness or die prematurely. Estate planning is one way to do this. Without estate planning, your pets could be abandoned or surrendered to the local shelter.
 
Canadians Care for Furry Children
We obviously care for our faithful companions – according to a BMO report, 89% of respondents said their pets are considered part of the family. Asked if they consider it important to make arrangements for ongoing care of their pets in case of their death, 76% of Canadian pet owners said that they did. However, just 33% have made a formal or informal plan, and only 7% have actually included their pets in their estate plans.
 
The Heiry Truth
So what's the worst that can happen if you haven't made provisions for your furry or feathered loved ones in your will? Another family member or friend might take your beloved pet to the local shelter. It's important to remember that not everyone shares your love for animals. If you haven't planned and provided for a willing, trustworthy caregiver to assume responsibility for your pets,  your dog or cat could face an untimely death as an unwanted pet in a shelter.
 
How can you ensure your beloved pet is cared for in case of an emergency?
Here are a few options to consider:
Leave a monetary legacy to the caregiver to offset the costs required to care for your pet. When doing this, it's important to consider the rising costs of pet ownership, like food, treats and veterinary care. Make sure you leave enough assistance to provide a lifestyle similar to the one your pet had with you. Losing a loved one is very stressful for your pet, so make the transition as smooth as possible.
Create a pet trust. You need to select a caregiver for your pet with conditions for them to follow. Your pet cannot be the beneficiary. In addition, you need to ensure enough money is provided to care for your pet.
If you're not comfortable supplying your potential pet caregiver with upfront funds, plan to have an agent make scheduled payments to covers all necessary costs. Make sure you consider the rising cost of pet care.
Until legislation is passed that titles pets as official beneficiaries in Canada, make sure to provide for your furry friends in your estate. This will decrease the likelihood of them being abandoned or euthanized. Don't leave them behind.