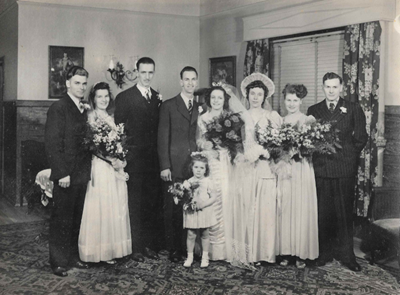 Ken and Vera Davis 
In October 1945, 22-year-old Ken Davis — a Second World War veteran — went to a Halloween dance in his home town of Winnipeg. There he met Saskatchewan-born Vera, whom he married seven months later on May 4, 1946. When asked what first attracted him to Vera, Ken replies, "She was so friendly."
This May, Ken and Vera will celebrate their 70th wedding anniversary. Their remarkable story has taken them from Winnipeg to Calgary, Trenton, and Germany with plenty of travel in between. Until last year when "the kids told us it was time to move," they lived in their own home. Today they call a retirement community in Cornwall, Ontario, home.
 
The Forces life
Like many of their generation, Ken and Vera saw first-hand the changes the war brought about. Ken signed up as soon as he was 18, right out of high school. Ken and Vera had their first two children while they were stationed in Calgary and their third while living at Camp Borden. The family lived overseas for four years while Ken was stationed in Germany, and they took full advantage of the opportunity to travel, visiting England, Holland, Belgium, Switzerland, Italy and France. 
 
Settling in one place 
Ken served for 24 more years after rejoining before leaving in 1969 to teach mechanics at St. Lawrence College. The timing coincided with Canadian Armed Forces unification. Says Ken, "I didn't want to wear a different uniform." He retired from the college in 1986.
Even after settling in one place, Ken and Vera continued to travel. They had a place in Florida for 22 years. At first, they would go for a month or two, but after retirement they spent five or six months there — "the maximum time possible," says Ken. After selling their Florida home in 2000, they spent many winters on the west coast or in Portugal.
 
Giving back to the community
Ken has generously given back to the community in a number of ways, including volunteering for Federal Retirees. Last year, he was recognized by the Association for his extraordinary volunteer commitment on behalf on veterans and retirees. 
 
Advice for a long, happy marriage
Asked what he cherishes most about this long and happy marriage, Ken readily replies, "our family." Ken and Vera's son and daughter live within an hour's drive of them, as do their granddaughter and great-grandchild. Sadly, their oldest daughter passed away in 2000. Today, their granddaughter, Tanya, has taken over family holidays. A trained chef, she makes sure that everyone is well fed and looked after.
The secret of a long marriage is to be tolerant and patient, says Ken. "You're bound to disagree sometimes," he says, adding, "but don't hold a grudge. Talk it out."