Hope springs eternal this time of year. The snow's gone, temperatures are rising and tiny shoots are appearing in the garden. Some people are born gardeners, while for many others — like me — it's been a learning process. Luckily, most gardeners are eager to share their enthusiasm, and I've been the happy beneficiary of their knowledge, advice and cuttings.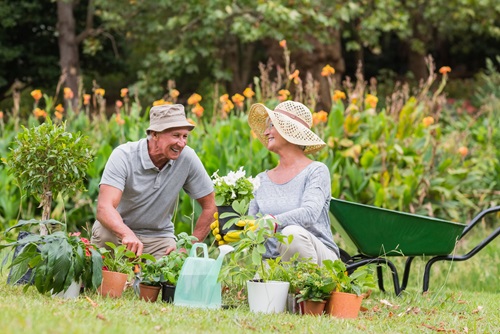 Over the years I've learned that it's possible to enjoy the process of gardening as well as the results. Here are the top ten lessons I've learned:
Begin with a plan. I used to plant things willy-nilly. Then my sister-in-law with the green thumb suggested we develop a plan based on sun patterns and my available time. Following her plan has been a game changer.
Buy decent tools. It's possible to spend a lot of time trying to edge a flower bed with the wrong tool — trust me: I've been there. Then I discovered the joy of using the right tool. Lee Valley Tools is a personal favourite.
Start small and expand once you've got that down pat. It's easy to get overwhelmed when starting out. In the early years, a garden nursery was akin to an all-you-can-eat buffet for me. Now I have more self-control.
Plant mostly perennials. It's far more cost effective to buy perennials. While the initial outlay is more, perennials pay you back year after year. 
Use annuals for splashes of colours. Very few gardeners can achieve season-long colour without planting some annuals to brighten the in-between times. 
Mass plant for that wow! factor. I could never understand why my friend Rebecca's spring flowers looked spectacular and mine looked, well, sad. Then she shared her secret: always plant at least 20 bulbs in each hole. I suddenly realized why scattering 20 bulbs throughout the garden didn't work.
Consult the experts. Most garden centres will help you select the best plants for your climate and light conditions. CBC radio offers gardening shows in many cities, including Ontario Today's weekly garden call-in. And don't forget the fabulous gardening books and magazines available.
Enjoy the exercise. Gardening provides a great form of moderate exercise as well as many psychological benefits. Being outside and soaking in the sun's Vitamin D can boost spirits. Don't forget to use sun protection if the UV index is high. 
Swap plants with friends and neighbours. Many communities have plant swaps where you can barter, trade or pick up plants. One beauty of perennials is that they need to be divided, meaning you'll have extras to share.
Keep a journal. Note what you plant where and how well it does. In the beginning I'd forget what a plant was called, how tall it was supposed to grow or when it bloomed. Keeping a journal means I don't have to start over each spring.
And above all, enjoy!