Janice Dickson
 
Sometimes, the best therapists are the four-legged kind.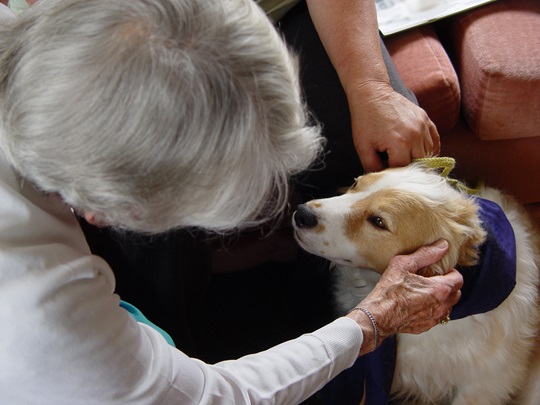 He calls her his "little angel." To Dan Drapeau — military veteran, trauma survivor — Kenya is more than a service dog, far more than a pet. She's his lifeline.

"Come here girl, come here baby girl," he tells the three-year-old Golden Lab retriever, who pads across the living room in Dan's cozy home in Orleans, just outside of Ottawa, to where he's sitting with his hand outstretched at the dining room table beside his wife, Celine. He scratches Kenya's head and smiles as he shows off some of the 80 commands she's memorized, proud as any father.

Dan has Post Traumatic Stress Disorder (PTSD), acquired during his United Nations mission service in the Middle East and Cyprus in the 1970s. He got Kenya from the Kansas-based Canine Assistance Rehabilitation Education and Services (CARES) after hearing about the program from another veteran.

Before Kenya came into his life, Dan was — as he puts it — "down the hole." Night terrors, flashbacks to his experiences in war, kept him sleepless and suffering. He didn't go out. His health deteriorated.

Kenya changed all that. Now, when the nightmares start, she licks his hand to wake him. If he forgets to keep tabs on his diabetes, she senses that he's beginning to feel faint and nudges him a reminder to check his blood sugar. She's his nurse, his therapist, his best friend.

"If he goes for a walk with her and for some reason he gets lost, he tells her 'go home' and she'll bring him home," says Celine, adding that Kenya's influence seems to have allowed her husband to shed some of the darkness he brought back from abroad.

"It's been two years that we've had her, and the kids have seen a big difference with their dad. His humour's changed. He's more relaxed than he used to be."

Animals have the power to transform the lives of people damaged by crisis and grief. And the most remarkable thing about 'pet therapy' is its universality — just about everyone, everywhere, responds to an animal.

"Pet therapy can decrease anxiety, loneliness, boredom," says Karen Hirshfeld, a professional practice chief in therapeutic recreation at Baycrest Health Sciences in Toronto, which specializes in elder care and dementia. Baycrest has offered a pet therapy program to its clients for over 20 years. Volunteers bring dogs (and one cat) to Baycrest for weekly sessions with the tenants.

The animals, says Hirshfeld, have a way of bringing her clients out of their shells.

"We see a lot of things that happen in the moment, like improved mood. We see more interaction … people have a chance to socialize and reminisce. We see people who don't necessarily engage in any other kind of activity engage with the dog.

"We see things like better social skills, people being able to communicate better."

How do animals make connections with those who, due to trauma or neurological conditions, won't — or can't — talk about what's hurting them? It's the same reason behind how people have been connecting with pets since the first dog was domesticated tens of thousands of years ago — animals take language out of the equation, allowing people to cope without necessarily talking about it.


The full article appeared in Sage Spring 2016.