Woody Huizenga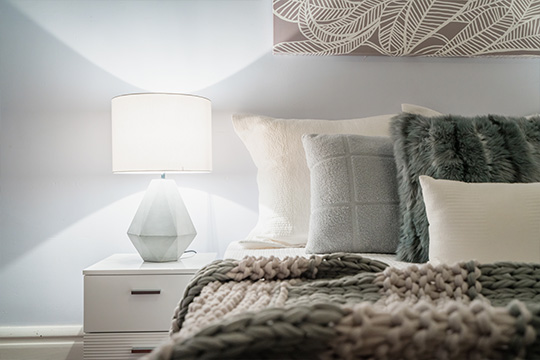 Make bedrooms safer by ensuring a lamp is placed within easy reach of the bed.

Be proactive. Don't wait until a slip or fall to take a good look at your living quarters. Every home — yours or theirs — where a senior spends a great deal of time must be adapted for comfort and safety.
 
Light up living spaces
Light rooms, hallways, entrances, walkways and (especially) stairways well.
Install night lights in bedrooms, bathrooms and hallways.
Have a lamp within easy reach of the bed.
Replace traditional light switches with glow-in-the-dark models.
Use light bulbs at the highest wattage recommended for the fixture.
Keep flashlights in any room where people spend time after dark.
Use task lighting for cooking, crafts or reading.


Remove or secure anything that could cause a stumble or a slip
Tack or tape area rugs and loose carpets to the floor, or remove them entirely.
Watch for small furniture, pet bowls, electrical or phone cords and other clutter that might cause a fall.
Arrange furniture to provide plenty of walking space. Remove items from stairs, hallways and pathways.
Put non-slip strips or a rubber mat on the floor of your bathtub or shower.
Get into a tub or shower with your weaker leg first. Get out strong side first.
Wear low-heeled, comfortable shoes that fit well and give your feet good support.
When you're carrying something, be sure you can see where you are stepping.


Install ramps, bars and railings
Install railings strong enough to support a person's full body weight on both sides of staircases. Railings should extend beyond the top and bottom steps and along walkways.
Place grab bars in tubs and showers, and next to the toilet, to help you get in and out and up and down.
Place non-skid mats inside and outside your shower or tub and near the toilet and sinks. Use shower chairs, bath benches and high toilets.
Avoid stairs if possible. If steps are necessary, they should be deep and flat for easy balance. But it's best to keep everything on one level.
Use taller chairs when possible. Higher seating makes it easier to get up and down.
Put rubber tips on walkers, canes or crutches.


Organize your living spaces
A well-designed kitchen will have everything within reach. Shorten the distances between utilities and appliances and reduce the effort involved in food preparation.
Make it easy to reach the things used most often. Use a reaching device to access higher shelves.
Use easily turned levers rather than knobs on faucets.
Kitchen cabinets should be low, with sliding doors that require less manual dexterity.
Leave plenty of room for food preparation.


Doors, phones and emergencies
Install doorbells and telephones with long, low-pitched rings.
Use a telephone with large, easily read numbers.
Make sure fire-escape routes are unobstructed and well lit.
Make sure the home has a carbon monoxide detector.
Make sure there is a smoke detector on every floor and outside every bedroom.
If someone is apt to wander, consider installing a door chime or alarm.