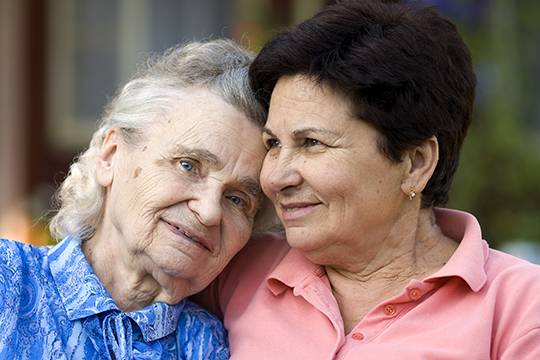 Despite our aging population, conversations about preparing for one's senior years don't happen as often they should. In most cases, planning for these discussions will make them easier.
 
Planning eldercare discussions
Thinking through the conversation can help make it positive and productive. Write down what you think you need to discuss so you don't forget anything. Remember that the discussion you begin is not meant to be a one-time occurrence — it's the beginning of what should be an ongoing series of conversations. 
When discussing elder care, begin as early as possible. The ideal time is when your loved one's health allows them to fully participate and share wants, needs and preferences. Otherwise, your decisions may be dictated by a life-changing event and may not necessarily reflect their wishes. Choose a time and place that makes everyone comfortable. Avoid special family gatherings, like a birthday or holiday celebration so you can have a relaxed, unhurried conversation.
 
Including others
You may wish to include other family members. If so, try to meet with them in advance. This will ensure everyone is on the same page and help avoid an unproductive, confrontational situation.
 
Starting eldercare conversations
Begin by letting your loved one know you're concerned for their well-being and want to know how to help them. Explain that you'll be writing down the plans to ensure they'll be followed.
Approach the discussion as a partner to your loved one. Avoid reversing roles — that is, acting as the parent, which could cause resentment. Keep it simple.
Open the discussion about long-term planning by inquiring whether they need help now to make life easier. This could be help with home maintenance, yard work or bill paying, for example. Sometimes, sharing a personal experience, such as retirement or estate planning, provides a graceful transition into a conversation about the future. A friend or relative's medical emergency can also open the dialogue.
 
Documenting records
If possible, ask about important documents. These include insurance policies, wills, trust documents, investment and banking records, tax returns, living wills and durable powers of attorney. You can do this by explaining that you want to be ready to help when needed. This can also help determine if plans are already in place. Document what you find and where you found it.
 
Establishing a plan
When developing a plan, it is important to ask open-ended questions. Listen carefully to learn what is important. Offer options, not advice. Present more than one solution and ask which option is preferable. This involves your loved one in the decision and enables them to exercise control and independence.
If there is resistance, it can help to involve third parties. Some people are more open to the guidance of a respected non-family member. This could be a doctor, member of the clergy, geriatric care manager, or trusted friend or neighbour who may have already helped a loved one in a similar situation.